Looking back at the start of 2020, the Bellingham and Whatcom County Real Estate market was positioned for a busy year. Many were predicting home appreciation of 4-5%, and sales to be up another 2-3%, and that was coming off a very strong 2019.
And interestingly, despite the pandemic, we end the year not too far off where we thought we would be (related to home sales and home values in our market). But obviously the year has been a real rollercoaster.
Each quarter of the year breaks up into very different stories.
Quarter 1 (January-March) got off to a strong start with home sales, and home values slightly appreciating. Although the market began to slow down in March when the economy began to freeze (see red line for pending home sales in chart below). Still closed sales in March were hardly effected, since closed sales are primarily from January and early February activity.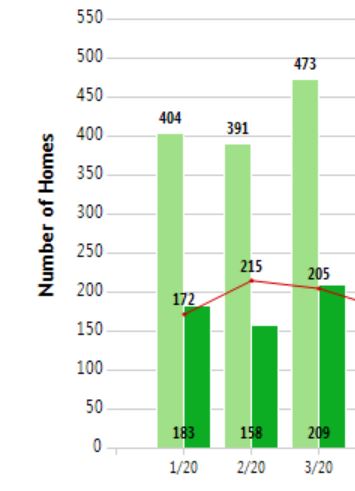 The 2nd quarter is really when the market took a big shift, with April being the peak of the panic and freeze that set in with the Real Estate market in Whatcom County. You can see 510 single family homes for sale, versus only 178 going pending. In April, the idea of a "V recovery" by the end of the year, was widely being rejected….and many experts were forecasting a 75% drop in sales for 2020!
Yet in May and June, signs of the market coming back already started to show. Pending sales took a big jump in May and June to 282 and 306 sales respectively.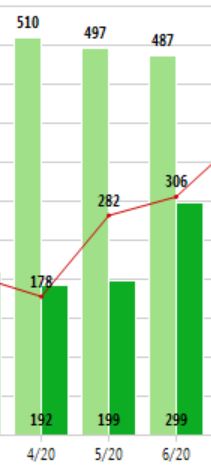 The 3rd quarter was when the economy began to really open back up locally and the Whatcom County Real Estate market showed strength. In the 3rd quarter, interest rates also dropped into the 2's. The combination of the economy opening back up to a certain degree, pent up demand from buyers who had freezed their search in the spring, and low interest rates…this all presented a recipe for high demand and increased sales in July and August.
In addition, we began to see a huge influx of Seattle and California buyers relocating to Bellingham. The new reality of being able to work from home long term has now opened up many peoples ability to move where they want to live. Remote work opportunity was predicted to be a boon to small attractive cities like Bellingham, and this has proved very true!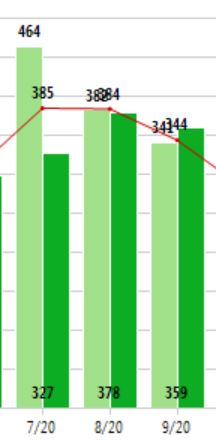 The problem was that as demand and sale increased through July and August, the supply did not increase with it. As typical going into the fall, the amount of homes for sales started to come down. The problem is the back log of buyers continued to increase. Our county is also not building enough single family homes to meet this new demand.
So the increased demand, lack of inventory, and low interest rates– all have created an unexpected market frenzy this winter.
See the sales for October and November. Incredible numbers showing more homes sold (dark green) then are active (light green) for 2 straight months.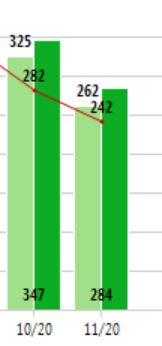 Pending sales are declining, but that is typical going into the winter. And that is essentially impossible to avoid when you don't have the inventory to allow more buyers to buy.
This last 3 to 5 months has created a frenzy market, and the consequence of that is a bump in home prices almost across the board in Whatcom County of about 3-5%. See home values per square foot in Whatcom County below. Home prices are settling down for the winter, but saw a steady increase all summer and fall.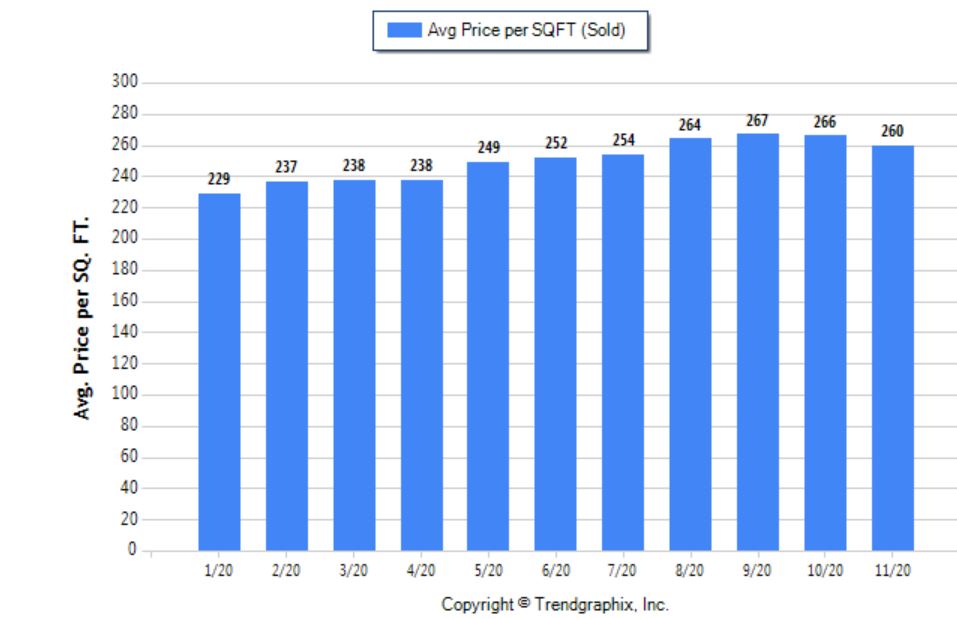 And the absorption rate (months of inventory) below. Anything under 3 months supply, and home prices are usually increasing. Under 1 month and you are in a frenzy.
Looking ahead to 2021, it's impossible to ignore all of the evidence in front of us. With a 1 month (or less) supply of inventory, the lowest interest rates ever (and the Fed's commitment to keep rates down through most of 2021), and the back log of buyers in our market…I'm expecting a record breaking sales year in 2021.
Chief economist Lawrence Yun of the National Realtor association is predicting 2-3% increase in home sales in 2021, and 3-5% home value increases. My best guess is a similar line for Bellingham and Whatcom County. And that is being conservative.
Yes, there is those that have been hit hard by this pandemic, and an increased number of people who need to sell. But their is an ample buyer pool right now for any new inventory. Home buyers with cash and a ton of equity are still coming in large numbers from Seattle and California… and that does not even include the fact that the Canadian border will eventually open back up in 2021 as well. That will bring in another large pool of buyers and investors.
So let's be clear…The local Real Estate industry is in for a busy 2021. It is going to be an exceptional year for home sellers, and will remain a very competitive and tough market for home buyers. The only good news for buyers is you should expect an increase in housing options, and rates should remain low.