So we are more than 6 weeks into shelter in place in Washington, but now have a full month of activity to review in April, plus near the half way point of May. Our Real Estate market and way of doing business has adjusted and become kind of a new normal. Turning in a disclosure before showing a home, keeping a clean mask in your car at all times, and making sure you have hand sanitizer spay bottles for your new listings are all part of the resources needed day to day.
Additionally our office has begun doing Facebook Live Virtual open houses. This is a way we can still create buzz around a listing the opening weekend it is listed and get more people looking through the home.
So Real Estate is in motion, but sales are indeed down. April 2020 closed sales were down 25% from April 2019, and pending sales were down 35% from April 2019.
So it's safe to say that closed sales will be down roughly 30-35% in May as well.
But that's the bad news. Here is the positive:
Many "experts" were predicting home sales to drop by 50-75% in the Pacific Northwest. This has happened in New York, but in the greater Seattle area, and our local Bellingham & Whatcom County market, the region in general has been down 25-40%.
2 additional positive take-away's right now.
-For home sellers and soon to be home sellers….Home prices have flattened over the last 6 weeks, but show no signs of dropping in the very near future at almost all price points.
You may ask; How can home sales be down, but not home prices? It's simply supply and demand. While sales are down 25-35%, we are seeing 25-35% less homes come on the market. Inventory remains at under 3 month supply, which still keeps pricing firm in most areas and price ranges. In fact, we are still seeing multiple offers in some cases in Bellingham.
-For home buyers, selection is sure to increase this summer as more and more get comfortable listing (or need to sell). So selection will be increasing, prices have stopped appreciating and interest rates are literally at an all time low.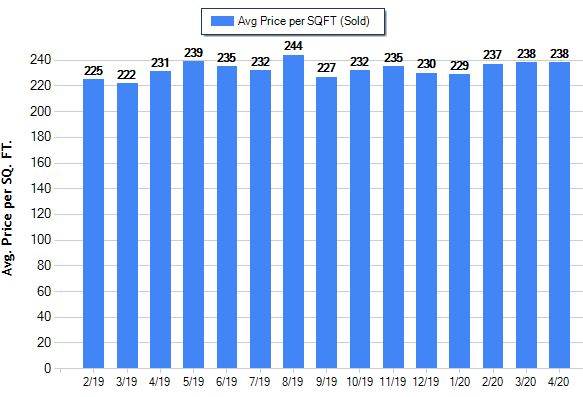 Average dollar per sq. ft. for Whatcom County was flat from March to April of 2020.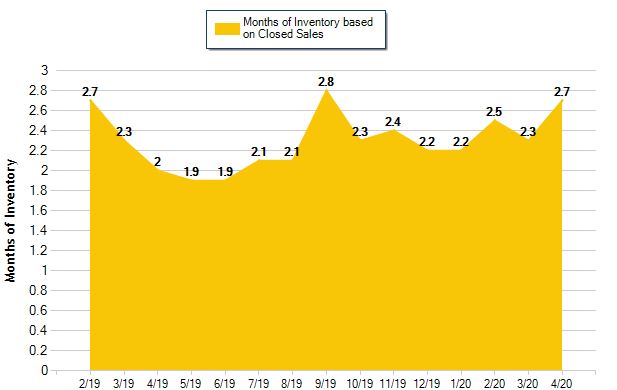 While closed sales are down 25% and pending sales are down 35% year over year, the absorption rate remains under 3 months. Which will hold home values steady at this time.