2016 turned out to be one of the best Real Estate years in Bellingham & Whatcom County's history. Home sales were up 8%, with the most home sales ever in Bellingham.
And with the lack of new construction to meet this demand, home appreciation was the highest it's been since 2006-2007. Median home prices rose 11% in Bellingham ($344,000 avg sale price) and about the same throughout Whatcom County. Looking at the dollar per square foot average sale price for Whatcom County below (which is another indicator), it also shows about a 10% appreciation over the last year.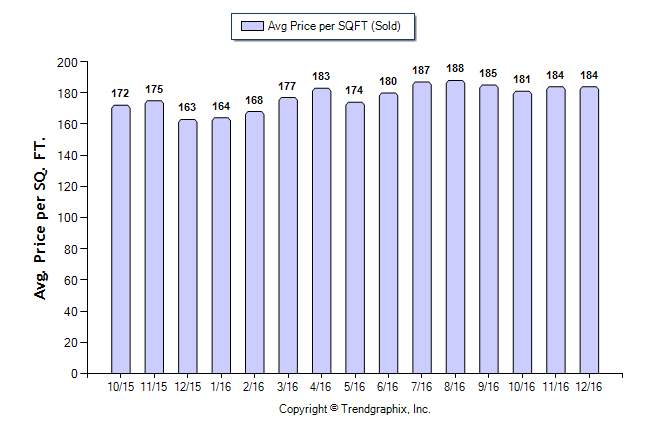 But home appreciation is always local to your neighborhood and price range. The biggest price jumps occurred in the most popular Bellingham neighborhoods, like Columbia, Cornwall Park and Sunnyland, which saw appreciation of about 15% over the last year. But just about every area of the city and county saw appreciation of at least 7%.
The condo market in Bellingham, which has been slower to rebound, also finally saw a jump in values, with condos also appreciating about 9%.
Now moving forward, what shall we expect? There is some reasons to assume the hot market could cool down a little bit;
-Interest rates have jumped up from an average of about 3.7% for most of last year, to 4.25%.
-The Canadian dollar continues to be weak, which impacts the Blaine and Birch Bay market the most. Particularly the condo market near the border.
-With prices up combined with higher rates, affordability becomes more of a concern.
Zillow has tempered predictions of home prices rising in 2017– a projection of another 3% in Bellingham this year. That sounds right on paper, but looking at the 2 charts below, and being in the mix every day with buyers and sellers, I can easily see home prices jumping up more than Zillow's projection.
The months of inventory (which is: How many months it would take to sell thru all of the available homes based on current pending sales pace) is really incredible right now. Normally, being at a 4 to 6 month mark is a sign of a healthy and strong Real Estate market. Higher then 6 months, and prices may be declining, lower then 3 months, and home prices are typically going up.
The Bellingham market is absolutely on fire with just a 1.4 month supply of homes available.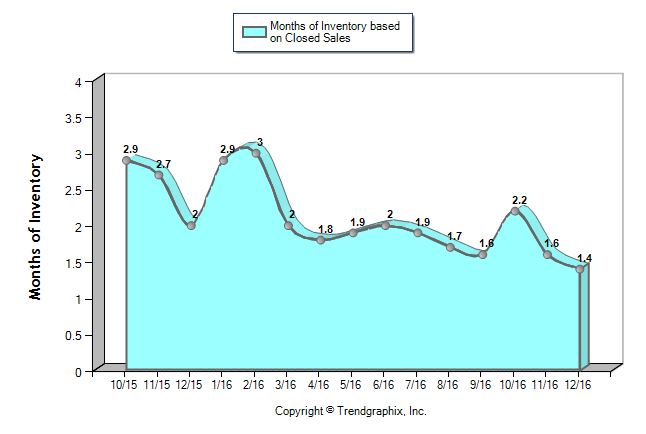 Whatcom County also has a lack of inventory with just a 2.4 month supply.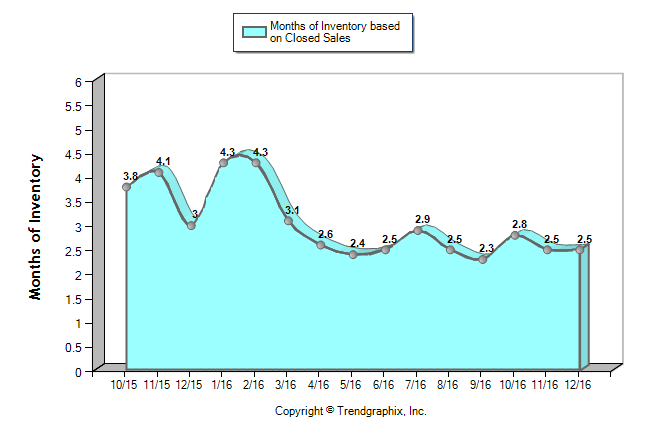 So the numbers say prices are still going up. And I meet with a network group of top agents every week, and our first meeting of the year, every agent is working with multiple buyers looking for a home right now.. The point being that there is a HUGE back log of buyers still looking to buy this year in Bellingham & throughout the county. So with the lack of inventory and high demand, prices should continue to rise in our area at least through the spring. Very tough to be a buyer right now, but really an ideal time to sell.