There has been a lot of talk about things slowing down, as reported in the Bellingham Herald but I don't see the same numbers the newspaper reported. The report indicates a 16% drop in home sales, when the Northwest MLS reports a 6% drop in home sales this September vs September 2018…and home sales year to date are only down about 2%.
Every year about at about this time, many people start to feel like things are slowing down…and they are. But they are in the sense that there is less homes on the market and sales begin to slow down. But the demand in Bellingham & Whatcom County is still extremely strong.
Beyond the Herald's reporting, many assume the Real Estate market is slowing down due to the many price reductions this time of year. But the price reductions are not a pattern of home values overall going down… but rather -sellers who had overpriced their homes this summer–adjusting the price to try to get their homes sold before the holidays. Many owners want to sell or rent before the holidays, and so October is a very busy month in that sense (that people are making a final push to get their housng or moving plans established before the winter).
Some are predicting a more balanced market next year…and I certainly hope for that. But as of right now, the stats point to steady winter sales…with home values still pointing in the direction of appreciating in most price segments (especially under $550k in Bellingham & and under $450k throughout most of the county). Here is why:
#1 Interest Rates. Rates are back down in the 3.67% to 3.75% range. This time last year they were trending in the 4.67 to 4.89% range. With rates at least 1% lower then this time last year, buyers have on average about 10% more buying power.
#2 The Absorption Rate. We entered October with just under a 3 month supply of inventory. A balanced market would be 4-6 months of available inventory. A 3 month supply or less, indicates there is still pressure on housing values to increase. There is less homes for sale today then this time last year as well.
#3 Lack of New Construction (particularly at affordable price points). Bellingham currently only has 4 note-able developments under construction, and literally all of them are still pre-selling everything before builds are complete (and in many cases, before the builder even needs to advertise the home to the MLS). Ferndale has more new construction available, but very little in the $450k and under price range. Lynden, Blaine, Birch Bay and Sudden Valley all have very little new construction starts happening right now.
#4 Strong Pacific Northwest economy. Bellingham continues to benefit from low unemployment locally, and we also benefit from the strong job growth in the Seattle area. We continue to get Seattleites moving up to Bellingham that telecommute for work–to get away from the congestion and home prices that are dramatically higher then Bellingham. We also have affluent Seattle area buyers looking for 2nd homes in areas like Birch Bay, ski cabins in Glacier, and in the waterfront markets on Lake Whatcom and Lake Samish.
#5 The numbers all paint a clear picture (see below). Every chart available shows prices still slowly increasing, and all slow downs being completely relative to the time of year it is. I can't find any emerging pattern that would allow home prices to suddenly start declining.
So it's indeed a strong market still with no real signs of letting up much. Home prices should be relatively level throughout the fall and winter–with perhaps another price surge in the spring.
The bottom line is any slow down is only due to the cycle of this time of year.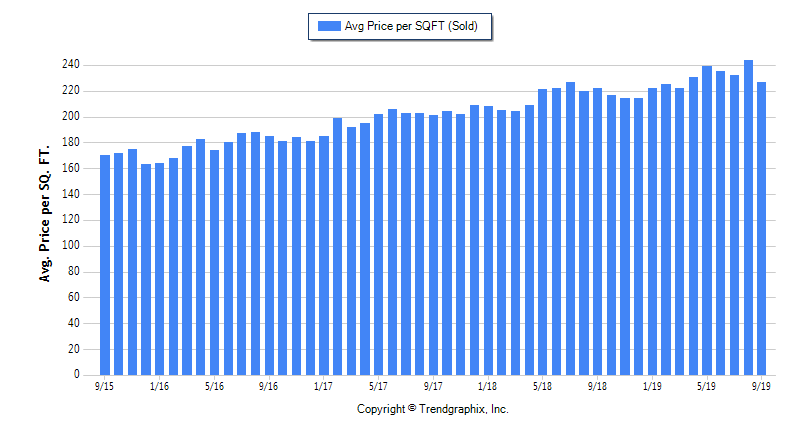 The average dollar per square foot has been steadily increasing over the last 4 years. It's down last month, but that is the trend every year at about this time.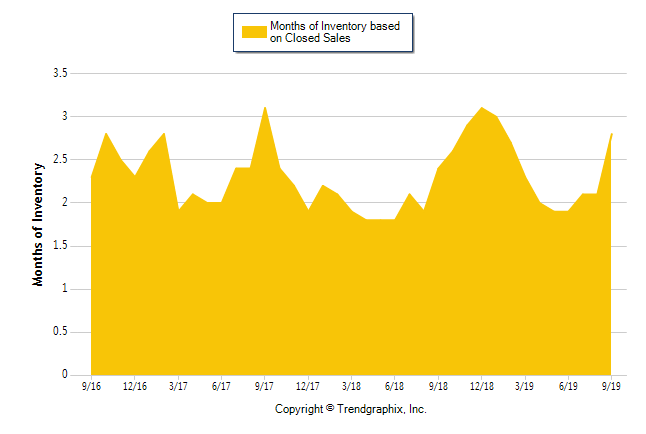 Under a 3 month of supply points to home values still appreciating. You can see the months of supply is increasing…but you can also see it was increasing the same way in 9/16 and 9/17 and in 9/18. Then drops down every year around March.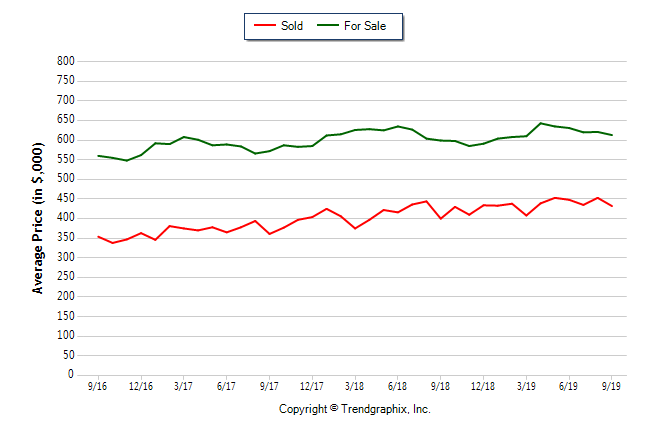 This shows average list price and average sold price. You can see we still appear to be on a steady increase, with only a small dip happening now, the same as 9/16, 9/17 and 9/18..If trends continue, pricing should rebound and increase again next spring.