We are now at the halfway point of the year, and the Real Estate market in Bellingham & throughout Whatcom County remains as strong as ever.
The general "feeling" amongst agents and buyers is that the market is slowing down a bit from the spring frenzy, but the reality is…that's the natural shift of the summer market every year. The spring is always the busiest, and in the summer, you always see more listings come on the market.
Looking at the stats across the board, the market is as strong as ever, and inventory is actually down from this time last year. The trend is on almost the exact same trajectory as last year. And what is that trajectory?
That is it's still a hot market. A consistent 2 months of inventory (meaning it would take 2 months to sell through all of the existing homes for sale, based on the current sales pace), means there is still a general lack of inventory–thus still a sellers market.
In the summer with more housing selection, and people busier with vacations, etc, buyers are at least able to take a breath, and consider a listing for a few days here and there. Not everything is selling the opening weekend like the spring, but home sales in May & June were still on pace with last year.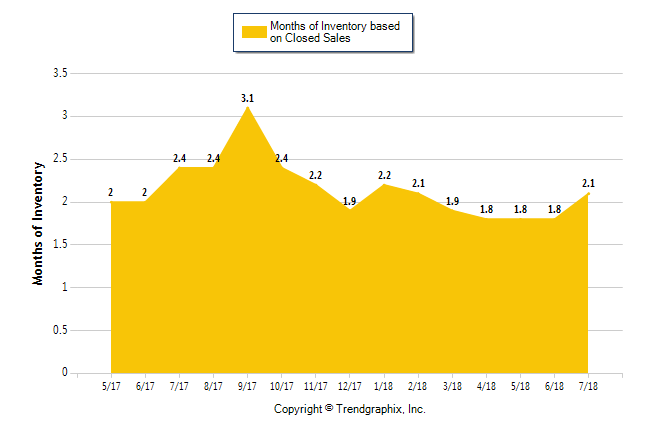 Home prices have been up 10% in the last year, and so if the trend continues, that could mean another 10% by next summer.
Of course interest rates have risen in the last 12 months, and are expected to rise to an average of 5.0% (currently around 4.75%).
Higher interest rates, along with a slight uptick in new construction in Bellingham & Ferndale, could slow down home appreciation, and bring us to a more balanced market.
But the market is always generally moving up, or moving down. And at this point of the year, the numbers show us it's still moving up.
Below is the average price per square foot in Bellingham over the last 15 months.